Mullineux & Leeu Family Wines Special Offer
Come discover the truest expression of the Swartland and beyond through the wines of the Mullineux Family
Online Wine Picks
Shop our sommeliers' favourites, or browse our full wine portfolio.
Red Wine
Sangiovese
Sustainable
Dry
Medium Bodied
750ml
14% alc./vol
About the Winery
Cortonesi

"I'm a lucky man who has been given the opportunity to realize my dream and continue my family's efforts making wine in the land where I was born." – Tommaso Cortonesi
Tommaso is third-generation winemaker at Cortonesi that owns some of the most prized vineyards in the north and south-east of Montalcino. Favourable geography, rocky soils, and ingenious winemaking all come together to create some of the region's deepest and most elegant Brunello wines. 
The Cortonesi family has been making wine since the 1970s. At first, wines were made to be enjoyed by family, friends and neighbours, but then in 1985, Cortonesi had gained enough traction within their community that they began to offer their wines commercially. Today, Cortonesi remains a family business that continues to work according to tradition, while employing modern technologies to the enhance the quality of their production. 

Lovers of Sangiovese must experience "La Mannella", a collection of wines exclusively sourced from Cortonesi's private vine land. This farm covers 56 hectares, eight of which are devoted to the production of some of the world's most coveted and age-worthy Brunello di Montalcino. 

Press Reviews
Wine Align
92 points - Michael Godel
The 2011 planted vineyard is the youngest at La Mannella and is used exclusively for Tommaso Cortonesi's Rosso. "In recent years, for my generation we are trying to approach Rosso di Montalcino is a more personal way," tells Cortonesi. "A fresh wind, brought to the production and (especially) the communication. Finding a real identity, not as a baby Brunello." The clay soil does not necessarily give big concentration but more so ease, elegance and classic sangiovese. Seemingly dark in hue but bright and tart in such an accentuated way. Can't really shake the idea of the quality inherent in this specific scope of concentration. A liqueur of sangiovese, moving towards the finish swiftly and courteously across the palate. Drink 2022-2026. Tasted November 2021.
Red Wine
Pinot Noir
Natural, Organic, Vegan-Friendly
Dry
Medium Bodied
750ml
13.5% alc./vol
About the Winery
Domaine Frédéric Brouca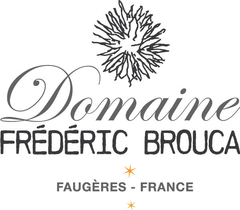 Frédéric grew up in Normandy and met his Canadian wife Elaine at university in Lille, Northern France. They live a nomadic lifestyle (Canada, India, Singapore and USA) though Frédéric spends about half of his time in Faugères. Since early age, Frédéric had a calling for farming and the fierce desire to become a winegrower. After completing a Masters Degree in Finance in 2001, Frédéric went back to college for a Sommelier diploma and started his career as a Burgundy wine broker.

In late 2012, Frédéric and Elaine were fortunate to take over 25 acres of old vines in Faugères, organically farmed for twenty years and deeply rooted in schist soils.
2013 was the inaugural vintage for Domaine Frédéric Brouca. In his modest winery in the village of Laurens, Frédéric is creating a new vision for Faugères wines; fresh, vibrant and made without artifice. Nothing revolutionary, simply returning to our grandparent's ideology of farming and winemaking to craft 'Vins Vivants'. The Faugères Appellation is in the heart of Languedoc in the Hérault department. Here, winemaking dates back to the Greek times and was developed during the Roman Era. It wasn't until the early 1900's, however, that the wines became more widely known for its unique schist soils and moderate Mediterranean climate. These villages are heavily reliant on wine as an important part of their culture and economy.
The area is stunning with mountain views and close proximity to the Mediterranean Sea (20 miles / 30 kms). Faugères has a long history of responsible farming. It boasts the highest percentage of organic vineyards for any AOC in all of France with almost 50% of farmers making the choice.
Press Reviews
Wine Align
90 points - Michael Godel
Brouca's pinot noir is called "Foulage Gaulois," literally "Gallic Treading," a reference to feet stomping grapes and history tells us the Gauls were big on the fermented stuff. Their interest goes back to the fourth century and the Romans were quite fond of their work. Fréderic's carries a seriously carbonic varietal impact with high tonality, great freshness and a piney herbal character. Quite minty evergreen and open knit though really light within its bushy parameters. Drink 2023-2025. Tasted January 2023.
90 points - John Szabo, MS
A low intervention, 'natural' pinot, unfined and unfiltered from 25 year-old organically-farmed hillside vineyards in the south of France (Faugères region) with evident spicy-herbal whole bunch (stem) inclusion in the ferment. I like the dried herb and herbal tea, pot pourri and spiced cherry chutney flavours, the zesty acids, the firm and dusty but forgiving tannins. Length and depth are solid. A well-made, innovative take on pinot noir from a region that really shouldn't be growing pinot noir, managing to maintain freshness and composure against the odds. A cool, wet growing season surely helped the liveliness along. This is well worth a look, and it's totally free from deviations. Drink or hold short term. Tasted January 2023.
White Wine
Chardonnay
Sustainable
Dry
Medium Bodied
750ml
About the Winery
Jeanne Marie
The Jeanne Marie label was created by David Gordon, one of New York's first recognized sommeliers, and the person responsible for the Wine Spectator Grand Award-winning wine list at Manhattan's famed Tribeca Grill restaurant. The restaurant opened in 1990 by restaurateur Drew Nieporent and actor Robert DeNiro. Gordon, who is self-taught, began learning about wine in the 1980s just as Kevin Zraly was beginning to educate America on the world of wine. At the time, there were very few non-French somms working in the city and the British-born Court of Master Sommeliers was in its infancy.
"You had to pick up a book or magazine to learn about wine," says Gordon. There were no YouTubes or Google or extensive training programs. The list now boasts over 1800 selections including verticals of some of the most sought-after producers.
While he tasted and learned about the best wines on the planet, which included expensive Burgundies and Rhône wines, Gordon always kept the consumer top of mind. "House" Cab and Chard were big sellers at the restaurant, so he set out to meet that demand with a genuine product that would deliver consistent quality.
"I started the Jeanne Marie line as a fun, cool thing to do," says Gordon. "There really weren't any wines associated with sommeliers at the time.  Now there are many, but these were definitely among the first. I named the wine after the person I worship, my wife of 30+ years- Jeanne Marie."
In the beginning, Gordon sourced the wines from his friends in Napa and Sonoma. Producers such as Caymus, Lewis Cellars, and Miner Family provided grapes and helped with the winemaking for the early cuvées. The first Chardonnay vintage was 1992, released in 1994. Today, all the wines are sourced from top producers who have provided high-quality fruit at a fair price year after year. Gordon has kept to his original promise that wines with the Jeanne Marie label will always be affordable and delicious. "People want ripe fruit and a clean taste that's not too oaky or tannic," he says. The wines are refreshing, they can be drunk as an aperitif before dinner or with a meal."
Wines bearing the Jeanne Marie label, much like David Gordon himself, are welcoming and unpretentious.
White Wine
Macabeo, Malvasía
Organic, Sustainable
Dry
Residual Sugar: 1 g/l
Light Bodied
750ml
12.5% alc./vol
About the Winery
Celler La Vinyeta

La Vinyeta is a relatively new company, established in 2002 in the centre of the Alt Empordà region, in Mollet de Peralada, a township devoted to the cultivation of vineyards and olive trees. The project started with the acquisition of a couple of old stocks, between 55 and 80 years old, of the Samsó and Garnacha varieties. Since then more vines have been planted, and La Vinyeta cultivates a total of thirty hectares.
In 2009, La Vinyeta became one of the first wineries to adopt Integrated Production, an environmentally friendly cultivation system. The team at La Vinyeta possesses an innovative spirit and likes to share with others their knowledge of wine and the wild landscape that surrounds them.
NPW On Instagram
Follow us @nicholaspearcewines