32 products
Red Wine
Cabernet Sauvignon, Merlot
Dry
Medium Bodied
750ml
13.6% alc./vol
Red Wine
Cabernet Sauvignon
Dry
Full Bodied
750ml
13.70% alc./vol
About the Winery
Pearce Family Wines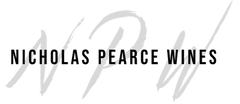 In the early 2000's Nicholas Pearce was exposed to the garagiste movement in Bordeaux and was particularly inspired by négociants like Jean Luc Thunevin (Saint Emilion), James Sichel (Margaux) and Nicolas Potel (Beaune) from Burgundy.
After returning home to Ontario and starting his own wine company, he has had a hand in making 10+ wines in two hemispheres, 3 countries and 5 different appellations since the 2013 vintage.
Press Reviews
Wine Align
90 points - Michael Godel
2018 vintage: The latest in wine merchant Nicholas Pearce's negoce project (that counts 10 wines in three countries I believe) is this Columbia Valley cabernet sauvignon. Rue Naujac is the street Pearce lived on while studying and working in France and Bordeaux is the country's 33rd department. The reference "33" is slang for Bordeaux, a wink-wink, nudge-nudge laugh for those who know him. A blend of two different vineyards, one in Wahluke Slope AVA & the other in Horse Heaven Hills AVA. Deep, dark, unctuous, flowing with Cassis and no shortage of graphite notes neither. Good spirit and quite correct, better and more honest than most at the west coast price. Drink 2020-2024. Tasted July 2020.
90 points - David Lawrason
2018 vintage: This is a quite tasty and delicious cabernet if veering into sweet territory. It is quite full bodied, smooth and dense, and balanced in that sense. The nose is very ripe with blackcurrant jam, spice and generous oak spice. It is full bodied, with some cabernet earthiness and dried herbs. Very good to excellent length. Tasted August 2020.
90 points - John Szabo, MS
2018 vintage: A creation of Ontario importer Nicholas Pearce in partnership with a French winemaker with 30 years experience in Washington, Rue Naujac is the street Pearce lived on while studying/working in France, and Bordeaux is the country's 33rd department, both of which gave the inspiration for the name and lot # of this wine. It's made of pure Cabernet Sauvignon, 64% of which is from the coveted Wahluke Slope AVA, and 36% Horse Heaven Hills AVA, with 15% new oak used for maturation. It's crafted in a typically forward, plush and dark fruit flavoured Washington style, immediately engaging and appealing, with a vague sensation of sweetness on the palate to broaden appeal. Tannins are thick and velvety, while mocha-chocolate flavours fold into the fruit. Both sophisticated and approachable, a winning style all around, well priced. Tasted July 2020.
Red Wine
Cabernet Sauvignon, Grenache, Merlot, Tempranillo
Organic, Sustainable, Vegan-Friendly
Dry
Full Bodied
750ml
14% alc./vol
About the Winery
Pago Aylés
Pago Aylés was founded by Federico Ramón, who in 2003 began his dream of classifying this unique land as the first Vino de Pago in the Aragon region. In the Spanish wine quality pyramid, the Pago stands as a top tier or grand cru winery. Just before Federico died, his dream came true in 2010, as Aylés became the 10th Vino de Pago in Spain.
Today his three children continue to produce wines from this special land. The vineyard site has a long history of winemaking, dating back to the 12th century by Spanish monks. Influenced by the River Huerva and the Monte San Pablo mountain, the soil is a mixture of clay, limestone and chalk – ideal for making high-quality wine. Caves, ravines and old river beds can be found all over the estate, which is brimming with wildlife.
Press Reviews
Wine Align
90 points - John Szabo, MS
Deeply coloured and sweet-smelling, very ripe and sappy red blend from Aylés (merlot, garnacha, tempranillo and cabernet sauvignon), with a solid dose of sweet wood spice and jammy black fruit in an almost new world, California-like expression. The palate is soft and plush, immediately satisfying and inviting with its vague impression of sweetness, and supple, creamy tannins and acids and solid concentration. The finish lingers on espresso-mocha notes, though not in exaggerated fashion. A bold and satisfying, widely appealing wine all in all for current enjoyment or short term hold - this is all about the ripe fruit. Tasted March 2022.
Red Wine
Cabernet Franc, Cabernet Sauvignon, Merlot
Dry
Medium Bodied
750ml
Press Reviews
Wine Align
91 points - Michael Godel
2014: A blend of merlot, cabernet sauvignon and cabernet franc in Pomerol mimic, attractive and edgy when it wants or needs to be. Right Bank stylistic in any case, herbals and amaro welling through with liqueur consistency and fashion. Quite chic and notably concentrated for 2014, really credible, with brisk acidity and plenty of toughness keeping the wine safe, elongated and with portents of further potential. Quite a steal actually. Drink 2021-2024. Tasted November 2021.
90 points - John Szabo
2014: Maturing, classy and complex Bordeaux here, delivering far above its price category in terms of complexity, depth and overall refinement and polish. It's drinking very well at the moment, with grainy tannins lining up with succulent acids, notably absent the green character of many 2014 Bordeaux (especially at this price level). Really quite an excellent experience all in all. Drink or continue to hold into the mid-late-'20s. Tasted November 2021.
Red Wine
Cabernet Sauvignon
Sustainable, Vegan-Friendly
Dry
Medium Bodied
750ml
13.63% alc./vol
About the Winery
Ramsay
Since its modest beginnings, the Kent Rasmussen Winery has evolved into one of the most important Pinot Noir producers in the Carneros region, but Kent was always keen to focus on other varietals and other AVAs. So, starting in 1989, Kent and Celia Rasmussen launched a second brand, Ramsay, which focuses on Sonoma, North Coast and Napa Valley. Kent chooses grapes and blends with great care to achieve stylistic continuity, year in, year out and to create high-value, finely crafted wines.
Press Reviews
Tasting Panel Magazine
91 points
Plush tannins and ripe boysenberry are surrounded by mocha-coffee and dried brush. Well balanced, with woodsy tones on the chewy finish.
Red Wine
Cabernet Sauvignon, Merlot
Dry
Medium Bodied
750ml
About the Winery
Château Tour de Gilet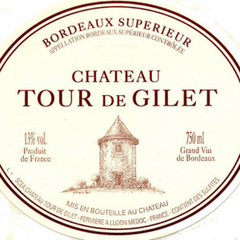 Château Tour de Gilet is located in Ludon Médoc, 16 km north of Bordeaux in the Médoc area. The Château was built on the foundation of an ancient abbey from the 12th century. At that time the vineyard was already surrounded by "jalles" or small criss-crossing drainage canals to help produce wines of higher quality. Today, oenologist Claude Gaudin makes an extraordinary wine at this small property, using techniques such as dense planting in the vineyard and green harvesting to lower the yield, sorting at the harvest and very natural wine making for maximum expression of the fruit.
Claude Gaudin is renowned for turning out several of Bordeaux's best Petits Châteaux wines. In addition to Château Tour de Gilet, Gaudin fashions two outstanding Petits Châteaux that border the Margaux commune, Château Barreyre and Château Laronde Desormes, as well as the celebrated Château Maurac Haut Médoc, whose neighbors are the renowned Château Sociando-Mallet and Château Charmail in Sainte-Estèphe.
Press Reviews
Wine Align
91 points - Sarah d'Amato, MS
A gently maturing Bordeaux with a great deal of brightness, purity and finesse. Features fine tannins, refreshing acidity, moderate alcohol and very nuanced wood - a sophisticated balance of elements. Drinking beautifully now given the majority of fresh fruit and still some tannic grip, this should continue to develop favourably for the next 3-5 years. Pulls above its Bordeaux Superieur class. Tasted September 2022.
91 points - David Lawrason
This has matured into a fine space. It is quite elegant and poised with a complex, well woven nose of redcurrant, raspberry fruit, fresh herbs, graphite and early onset tertiary leather. It has achieved real grace, with some heat, fine tannin. The focus and length is excellent. Tasted March 2023
Rosé Wine
Cabernet Franc, Cabernet Sauvignon, Pinot Noir
Sustainable, Vegan-Friendly
Dry
Light Bodied
750ml
12.0% alc./vol
About the Winery
Leaning Post
A leaning post is what you find at the beginning of a row of grapes, anchoring the wires that are the frame-work for growing grapevines. It is the beginning of an obsession to translate a time and place into liquid. Leaning Post wines take you to that beginning by finding small, unique plots of land in Niagara and putting them in bottle. Because after stripping away all the fancy buildings and high-tech equipment you are left with a place on this earth that grows wine unlike any other. When you taste that in a glass you just know it. Nadia and Ilya have had to rely on the support of family, friends and financial institutions to make the dream of owning a winery a reality. Leaning Post began as a virtual winery and is so proud to now have the quaint tasting room at 1491 Hwy 8 on their home property in Winona, Ontario.
Ilya and Nadia are the brains and passion behind Leaning Post Wines. It started with a dream to take unique, interesting single vineyard blocks in Niagara and turn them into distinctive, terroir driven wines. Nadia and Ilya first met in their hometown of Winnipeg, MB where their passion for wine and each other was born.
Ilya has been a winemaker in the Niagara Region for the last 17 vintages working at Daniel Lenko Estate Winery, Foreign Affair and now at Leaning Post Wines. Ilya is also a consulting winemaker at the Good Earth Winery. Ilya's true passion in life is to make world renowned wines from Niagara that really showcase the distinct terroir that Niagara offers.
Red Wine
Agiorgitiko, Cabernet Sauvignon, Merlot
Sustainable
Dry
Full Bodied
750ml
14.5% alc./vol
Press Reviews
Wine Align
92 points - David Lawrason
This combines local agioritiko with cabernet sauvignon and merlot to create a deeply coloured, still youthful looking and fairly dense well made wine. The nose is very ripe with blackberry, violet, a touch of herbaceousness and spice. Vanilla is nicely tucked as well. It is medium-full bodied with some nerve and juiciness, and fine, firm tannin. The length is excellent. Still needs a couple of years. Tasted July 2022
91 points - John Szabo, MS
A "super Peloponnese" blend of local agiorgitiko with cabernet sauvignon and merlot, harvested very ripe and treated to two years ageing in barrique, this is smooth and polished wine, broad, round and satisfying. There's a highly appealing, savoury, sapid profile, with gently grippy tannins, almost fully enmeshed in the ensemble; acids are balanced and 14.5% alcohol warms the palate but fits in well overall. Very good length and depth. An excellent value all in all, drinking well now but no rush - cellar comfortably until late in the decade. Serve with salty protein for best effect. Tasted July 2022.
91 points - Michael Godel
As with the Goldvine this special cuvée is Peloponnese in origin but here the blend is cabernet sauvignon (and merlot) with local agiorgitiko. Not Nemea but the layering of the signature Greek red grape works seamlessly with the expatriate grapes. A bigger wine any way you look at or taste what's in the glass and though it seems a bit candied you simply can't ignore or deny the herbology within. Mint in double effect, brushy fauna throughout and then a waft of chocolate. Were the oak treatment just a bit restrained the land would shine even further and take this cuvée to another level entirely. Drink 2022-2026. Tasted July 2022.
Red Wine
Cabernet Sauvignon, Merlot, Mourvèdre / Monastrell
Biodynamic, Natural, Sustainable, Vegan-Friendly
Dry
Light Bodied
750
13% alc./vol
About the Winery
Domaine Viret
In a magical place steeped in history, Saint-Maurice, in the Rhone Valley. Advocates of the principles of organic and biodynamic agriculture, the Viret family has chosen to employ a particular form of natural viticulture throughout their estate. Known as "cosmoculture®", this is based on cosmotelluric exchanges. Everything is organised in such a way that both vines and wines are able draw on their own natural defences.
Work in the vineyards focuses on reorganising the magnetic field and on the application of homeopathic and naturals preparations made from rocks and plants that are often found in the vineyards. Alain, Philippe's father, built the winery on an ancient Roman site around an underground spring which they believe energises the vineyards and the winery.
Red Wine
Cabernet Sauvignon
Sustainable
Dry
Residual Sugar: 2.1 g/l
Full Bodied
750ml
14% alc./vol
Press Reviews
Robert Parker
96 points
The 2017 Cabernet Sauvignon Reserve is a smashing success with an impressive array of red and black fruits on the nose with elements of spice and floral nuances that lift the experience to the next level. Wonderful expressions of dusty blackberry, cherry skin and baking spices compounded by aromas of pencil shavings, graphite and cigarbox sway with elements of red and purple flowers. Full-bodied, the wine explodes on the palate with succulent, dusty red and black fruit flavors before showing elements of dried herbs, elegant oak spice and youthful tannins across the mid-palate. The wine evolves over the long, lingering finish, showing complexity, precision and finesse. Give it a few years in the wine cellar before opening. Your patience will be rewarded. Bravo!
Cabernet Sauvignon
Sustainable, Vegan-Friendly
Dry
Residual Sugar: 2 g/l
Full Bodied
750ml
14.00% alc./vol
Press Reviews
WineAlign
91 Points - Sara d'Amato
A joint venture benefitting the winery employees of the Mullineux and Leeu Family Wines, this project is aimed at improving the livelihood of the staff and their families through the profits generated by Great Heart sales. The label features a Cape Wagtail bird that bears a marking that resembles a heart on its chest plumage and is known for its acts of selflessness and courage in assisting others in South African folklore. Great Heart's red blend is typically led by syrah and this incarnation is notably expressive of the grape's peppery and generous nature. Full-bodied but not heavy, this engaging blend features delicate oak and fruit-derived spice, an abundance of black fruit and no shortage of personality. Lithe tannins, an undercurrent of freshness make for a gratifying textural experience. Excellent length. Best now to 2026. Tasted Feburary 2023.
Red Wine
Cabernet Sauvignon
Dry
Residual Sugar: 2 g/l
Full Bodied
750ml
13.5% alc./vol
Press Reviews
Platter's South African Wine Guide
94 Points
SA classic from prime terroir, built for 10+ years. Liquorice, cedar & fresh herb overlay to pure cassis fruit, precise acid & fine-boned tannin, tightly focused exemplar of this wine's signature elegance, harmony, latent power. All-new oak, 18 months, like standout 2017.
Robert Parker
92+ Points
Compact and dark red fruited, the 2018 Cabernet Sauvignon Jonkershoek Valley offers cassis, blackberry and spiced plum notions in the glass. Medium to full-bodied, the wine offers soft hints of herbs, graphite, pencil lead and dark cherry skin before notions of violets sway across the mid-palate with a firm tannic edge. It's still tight and youthful and will benefit from an additional year in bottle; however, the wine should drink particularly well for the next 12 years.
Red Wine
Cabernet Sauvignon
Sustainable
Dry
Residual Sugar: 3 g/l
Full Bodied
750ml
14.50% alc./vol
About the Winery
Sister's Run
Sister's Run is serious fun. Their talented young winemaker Elena wears steel cap work boots every day of course, but carries a pair of high heels in back of the ute, only for emergencies, like last minute invitations to accept trophies at gala wine show dinners and the like.
Returning from a 'knees-up' at midnight, mid vintage, she managed to kick off one high heel and slip back into a boot' just as the cellar crew cried out, 'Run Sister Run'; and exactly then their winemaker and label took flight!
The stiletto and boot are Sister's Run; an independently owned and operated winery with a fierce commitment to making the best wines they can from family vineyards. They don't take ourselves as seriously as we take our wines, but agree with Elena, all you need to know about wine is the five 'V's and remember the best wine is the wine you like.
Press Reviews
San Francisco International Wine Competition
Gold Medal