Xarel-lo
Organic, Vegan-Friendly
Dry
Residual Sugar: 5.00 g/l
Light Bodied
750ml
12.00% alc./vol
About the Winery
Mas Codina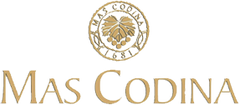 The Mas Codina estate is located in the heart of the Alt Penedès region, comprising of low-lying plains and hills between 250 and 300 metres high.
Until recently, the farm has always grown, and made a livelihood from, cereals, grapes, peaches and vegetables, as well as farm animals. Now, apart from century-old olive trees, all the land is devoted to vineyards.
Mas Codina has been in the same family for generations. They have adopted organic farming practices promoting natural processes and seeking a balanced ecosystem. All because of their love for land and tradition. There are currently 40 hectares of vineyards that are being organically farmed.