Red Wine
Cinsault, Grenache, Syrah
Sustainable, Vegan-Friendly
750ml
About the Winery
Domaine Frédéric Brouca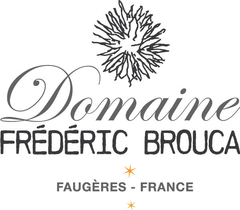 Frédéric grew up in Normandy and met his Canadian wife Elaine at university in Lille, Northern France. They live a nomadic lifestyle (Canada, India, Singapore and USA) though Frédéric spends about half of his time in Faugères. Since early age, Frédéric had a calling for farming and the fierce desire to become a winegrower. After completing a Masters Degree in Finance in 2001, Frédéric went back to college for a Sommelier diploma and started his career as a Burgundy wine broker.

In late 2012, Frédéric and Elaine were fortunate to take over 25 acres of old vines in Faugères, organically farmed for twenty years and deeply rooted in schist soils.
2013 was the inaugural vintage for Domaine Frédéric Brouca. In his modest winery in the village of Laurens, Frédéric is creating a new vision for Faugères wines; fresh, vibrant and made without artifice. Nothing revolutionary, simply returning to our grandparent's ideology of farming and winemaking to craft 'Vins Vivants'. The Faugères Appellation is in the heart of Languedoc in the Hérault department. Here, winemaking dates back to the Greek times and was developed during the Roman Era. It wasn't until the early 1900's, however, that the wines became more widely known for its unique schist soils and moderate Mediterranean climate. These villages are heavily reliant on wine as an important part of their culture and economy.
The area is stunning with mountain views and close proximity to the Mediterranean Sea (20 miles / 30 kms). Faugères has a long history of responsible farming. It boasts the highest percentage of organic vineyards for any AOC in all of France with almost 50% of farmers making the choice.