Frappato
Natural, Organic, Vegan-Friendly
Dry
Medium Bodied
750ml
12.5% alc./vol
About the Winery
Cantine Barbera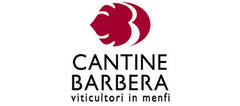 Cantina Barbera is located in the Menfi Coast, on the west coast of Sicily. The vineyards are about one mile from the Mediterranean Sea: an uncontaminated deep blue sea, facing South, where low cliffs and sandy dunes create a beautiful environment protected by the Belice River Natural Reservation Fund.
A third generation farmer, Marilena Barbera farms the Inzolia that her grandfather planted in the 20's, just as she attends to the native varietals that are the new frontier of her own generation: Perricone, Nerello, Alicante, Nero d'Avola and Grillo. Marilena makes her wines praticticing organic farming and natural winemaking, while paying utmost respect to Menfi's terroir.
"At the winery, I chose to work only with spontaneous fermentations and to adopt non invasive winemaking practices, in order to respect the unique personality of Sicilian native grape varieties and the beautiful land to which they belong."