Red Wine
Pinot Noir
Sustainable
Dry
Residual Sugar: 5 g/l
Medium Bodied
750ml
13.50% alc./vol
About the Winery
A to Z Wineworks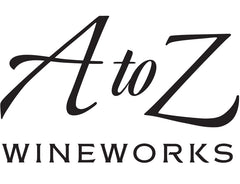 A to Z Wineworks was started in 2002 by Oregon wine industry veterans: Deb Hatcher (Eyrie), Bill Hatcher (Domaine Drouhin Oregon), Sam Tannahill (Archery Summit) and Cheryl Francis (Chehalem). Recognition has mounted for A to Z wines as offering dependable quality for great value and this continues today making A to Z the top-selling Oregon wine brand. A to Z Oregon Pinot Noir has twice been named to Wine Spectator's Top 100 wines of the year. In May 2014, A to Z Wineworks certified as a B Corp subsequently being named as a 'Best for the World B Corp' five years in a row.

Press Reviews
Wine Enthusiast
90 points
This widely available Oregon Pinot avoids the sort of winemaking tricks that take away detail and specificity. It is broadly flavorful with brambly blackberry and black cherry fruit, along with a streak of licorice.
Vintage Assessments - Michael Vaughan
90.5 points
This just-arrived new 2019 Vintages Essential edition has a fairly deep intense purple colour. Spicy,fresh, ripe, plummy-black-cherry purée nose with some sandalwood notes. Dry, medium bodied, harmonious, well structured, spicy, gently juicy, bright, ripe, plummy-black-cherry purée flavours with a lingering, fairly high acid, cedar-tinged finish. This ready-to-drink, crowd-pleaser has 13.5% alcohol and 5 g/L residual sugar.
Wine & Spirits Magazine
90 Points - Best Buy
A to Z draws from all corners of the state to produce this balanced blend that's foursquare and delicious, generous but not overripe, black-cherry forward, held in check by modest oak notes. A midweek pinot.