Refresh your wine collection with the latest and the trendiest handcrafted selections.
---
4 products
Red Wine
Grenache, Syrah
Natural, Organic, Vegan-Friendly
Dry
Full Bodied
750ml
About the Winery
Domaine Frédéric Brouca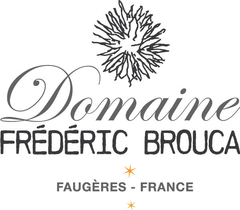 Frédéric grew up in Normandy and met his Canadian wife Elaine at university in Lille, Northern France. They live a nomadic lifestyle (Canada, India, Singapore and USA) though Frédéric spends about half of his time in Faugères. Since early age, Frédéric had a calling for farming and the fierce desire to become a winegrower. After completing a Masters Degree in Finance in 2001, Frédéric went back to college for a Sommelier diploma and started his career as a Burgundy wine broker.

In late 2012, Frédéric and Elaine were fortunate to take over 25 acres of old vines in Faugères, organically farmed for twenty years and deeply rooted in schist soils.
2013 was the inaugural vintage for Domaine Frédéric Brouca. In his modest winery in the village of Laurens, Frédéric is creating a new vision for Faugères wines; fresh, vibrant and made without artifice. Nothing revolutionary, simply returning to our grandparent's ideology of farming and winemaking to craft 'Vins Vivants'. The Faugères Appellation is in the heart of Languedoc in the Hérault department. Here, winemaking dates back to the Greek times and was developed during the Roman Era. It wasn't until the early 1900's, however, that the wines became more widely known for its unique schist soils and moderate Mediterranean climate. These villages are heavily reliant on wine as an important part of their culture and economy.
The area is stunning with mountain views and close proximity to the Mediterranean Sea (20 miles / 30 kms). Faugères has a long history of responsible farming. It boasts the highest percentage of organic vineyards for any AOC in all of France with almost 50% of farmers making the choice.
Red Wine
Bobal
Sustainable, Vegan-Friendly
Dry
Medium Bodied
750ml
14% alc./vol
About the Winery
Agrícolas de Vinos La Higuera
Agrícola de Vinos La Higuera' is a small project founded in 2017 by two friends, Javier del Blanco and Jorge Navascues, to join their knowledge in the wine industry while working separately with top Estates from different regions all over Spain.
The aim is to nurture and craft honest wines that will honor their origins, with great value and genuine quality, expressing the purity of the grape variety and the environment they are grown in.
Press Reviews
WineAlign
90 points - Michael Godel
A varietal bobal from Utiel-Requena where 34,000 hectares in Valencia between the two neighbouring towns of Utiel and Requena are mostly concerned with this unique variety. Here is a firm and medium-bodied example with a plenary meeting of root-earthy fruit and exemplary acidity. Not exactly tannic but structured in its own parochial way to live non-plussed for a few years. This is quite a youthful example with more getable juiciness than many. Drink 2023-2025. Tasted February 2023.
90 points - Sarah d'Amato
A fruity, juicy red smartly packaged with a modern-utilitarian label from the Valencian sub-appellation of Utiel Requena where the bobal variety dominates in both red and rosé forms. Mid-weight, supple and easy-drinking with white pepper spice, and bramble along with wafting notes of botanicals and mint. Lightly reduced in a very pleasant fashion. Would benefit from a slight chill. Engaging and convivial with plenty of food pairing potential. Ready to drink. Tasted February 2023.
90 points - Megha Jandhyala
This 100% bobal was sourced from a single vineyard called La Pinada planted in 1958 in the Valencian sub-appellation of Utiel-Requena. It has a sense of freshness, candour, and authenticity that is appealing. I like the ripe red fruit flavours including plump and juicy strawberries, raspberries, and cherries, accompanied by notes of savoury herbs and earthy tones. The palate is medium-bodied and fresh, with juicy acids and fine tannins, while alcohol is well-integrated (13.5%, per the label). Ready to drink, this bobal is best enjoyed lightly chilled. Tasted February 2023 by Critic Understudy Megha Jandhyala.
Red Wine
Alicante Bouschet, Aragonez, Trincadeira
Dry
Full Bodied
750ml
13.5% alc./vol
About the Winery
Paulo Laureano

Paulo Laureano is one of the most respected Portuguese winemakers and a reference for wines in the Alentejo.
Agronomist, winemaker trained between Portugal, Australia and Spain, after teaching at the University of Évora for 10 years, decided to dedicate himself, exclusively, to what has moved him since 1993: designing wines. Especially in the company he created with his family in 1999 and which has become increasingly important in his life.
Paulo Laureano defines himself as a minimalist winemaker, for whom designing wines is a passion, unveiling their aromas and flavors, evaluating and optimizing the reasons for his identity and personality, promoting them as true sources of pleasure.
His exclusive bet on Portuguese varieties reflects his way of being and looking at wine as a factor of culture and civilization.
Press Reviews
Wine Align
90 points - David Lawrason
This is a blend of three varieties from the sunny south of Portugal. It shows a generous, rounded nose of brambly/blackberry jam, perfumed florality, some oak vanilla and nutmeg. It is medium-full bodied, soft, genteel and warming with fine chalk tannin. Some minerality on the finish. The length is very good to excellent. Tasted March 2022
Red Wine
Grenache
Natural, Sustainable, Vegan-Friendly
Dry
Full Bodied
750ml
13.8% alc./vol
About the Winery
Bodegas Puiggròs
Since 1843, the Puiggros family has been producing wines from their own vines in the Odena region of Catalunya for the family and close friends. Over generations they had come to realize that their vineyards and techniques were something worth sharing with the world. A sincere dedication to the terroir in their zone and the indigenous varieties that grow there, allows them to constantly discover ways to unlock all of the magic that lies within their land.
Starting with conscious and clean farming in the vineyard, they hand-harvest only the best fruit for their production, and ferment each vineyard separately in varying vessels to accentuate what the vines have to show; some in stainless steel, and many in clay amphora of differing sizes. All the while seeing very little sulfur use (if any) until bottling. Puiggros is pushing the quality of northeastern Spain's wines forward, and doing so in a clean and unique way.
Press Reviews
WineAlign
92 points - Michael Godel
A specialist in clay-pot aged garnatxa and this bottling being a red that is only partially aged in amphora. Same limestone and clay soil grown garnatxa at 500m with a view to the mountains of Montserrat, in the outskirts of the village of Odena. As with all these wines there is a clarity and freshness to bely the methodology while here the florally-charged aromas are nothing if not beautiful. Like candied perfume, sweetly scented, inviting and gregarious. Generous too, openly so but also a thing of being so obviously natural. Hard to decide between the full on amphora white or this partially aged red. Both, is the answer. Drink 2023-2027. Tasted February 2023.
90 points - Megha Jandhyala
There is a guileless charm to this fresh and fruity grenache. It was made with fruit sourced from vines planted at 500 meters above sea level in the outskirts of Odena in Catalunya and fermented in either clay amphorae or large concrete tanks. I like the cheerful flavours of juicy red fruit, accompanied by subtle notes of earth and resinous herbs, and pretty aromas of violets. The palate is medium-bodied, warm, and comforting, with fine tannins and juicy, fresh acids. The finish is long and fruity.