Refresh your wine collection with the latest and the trendiest handcrafted selections.
---
2 products
Sparkling Wine
Chardonnay, Pinot Meunier, Pinot Noir
Sustainable, Vegan-Friendly
Dry
Medium Bodied
750ml
12% alc./vol
About the Winery
Champagne Fresne Ducret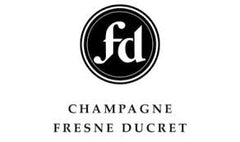 Fresne-Ducret is rich in family history and has been rooted in the premier cru village of Villedommange since the mid 1800s. Originally growing grapes for the big champagne houses, it wasn't until the end of the second world war that the family decided to make their own wine. The tradition carries on today with Pierre Fresne and his wife Daniella (an Oakville ex-pat). Their philosophy is to produce wines that best exemplify the terroir of Villedommange, and they do this with sustainability in mind.
In 2014, Pierre Fresne embarked on a new adventure by creating a limited series of champagnes based on his desire for experimentation. Since then, he has produced one or two of these wines each year. Each are unique, according to his wishes and the profile of the vintage. This unique collection is called Arquémie, the term for alchemy in the Middle Ages. In 2018 Pierre began converting the vineyards to organic viticulture, and 2021 will be their first organic certified vintage.
Press Reviews
Wine Align
95 points - Michael Godel
Hard to believe the age because while this almost certainly achieved an immediately retro toasted and evolved stage in its youth and though 12 years have passed the present day imaginings are dreamed to persist within that very immediate stage. As creamy as it is toasty, the textural body politic in La Grande Hermine is one of great cerebral and figurative impression. You feel, intuit and embrace such honesty and possibility. Drink this vintage dated Champagne all winter long. Its calming presence will preserve you in a state of grace lower than a snowman's blood pressure. Drink 2020-2028. Tasted September 2020.
95 points - David Lawrason
This is a very intense yet nuanced and superbly balanced vintage Champagne. The nose is a blast of finely woven brioche, baked apple, lemon, hay and hazelnut - classic aromatics. It is medium bodied, bracing, dry with great acid grip and minerality. Such focus and outstanding length. Such presence! Tasted Sept 2020.
93 points - John Szabo, MS
Terrific aromatics here off the top, very much in the mature champagne idiom, featuring baked apple turnovers and brioche, toasted almonds, baker's yeast and dried/candied citrus peel in a complex and a highly engaging expression. The palate is an explosion of flavour, delivering more of the same on an ample and generous frame (in champagne context), and excellent length. Expect a bit more of a developed, binned-apple-type expression, a wine more for fans of mature champagne, but an excellent one at that. Drink or hold mid-term for the real goût anglais. Tasted September 2020.
Red Wine
Pinot Noir
Sustainable, Vegan-Friendly
Dry
Medium Bodied
750ml
13% alc./vol
About the Winery
Claude Riffault
Stéphane Riffault, son of Claude Riffault, has become one of the most sought-after producers in the region. At barely 30 years old, his Sancerre wines have already become the envy of some of the region's most established vintners. 
Stéphane's Sancerre wines come from 33 different parcels in 8 different lieu-dits spread across 4 villages on limestone soils. Having studied and worked in Burgundy, and then trained with some of best – Olivier Leflaive (Burgundy), Château Angélus (Bordeaux), and his very own father, Claude Riffault – it's easy to see the Burgundian influence and the master of minerality in Stéphane's wines. 
When his father retired, Stéphane took over the winery and embarked upon a journey of viticultural transformation. Today, all 13.5 hectares are certified organic (ECOCERT, 2016) and biodynamic (BIODYVIN, 2021). The entire harvest is carried out by hand and an extensive sorting takes place before the grapes are crushed –– a testament to his craftsmanship and an unwavering commitment to sustainability. 
Press Reviews
Wine Align
93 points - John Szabo
2018 vintage review: Stéphane Riffault's 13.5 ha estate includes 3ha planted to pinot noir, of which La Noue represents 2.5 hectares across seven adjoining parcels with vines ranging from 8 to 56 years old, planted on both marls and Kimmeridgian limestones. Vineyard care is rigorous in the extreme (also certified organic), and the effort shows through in the final product, made in minimalist fashion. The 2018 is very much on the riper and fleshier end of the Sancerre Rouge spectrum, brimming with succulent red and black cherry (griottes), yet cool and classy, nicely composed, with fully integrated wood nuances. The palate is all class, vibrant yet fleshy, fresh yet generous, with a fine twang of limestone salinity and a tannin-acid complex that yields fine silk, more spun than woven. The wine gains succulence and energy with aeration, so be sure to serve in large-bowled pinot glasses or gently decant before serving, with a light chill for best effect. It should also hold comfortably in the cellar for another 3-5 years. Tasted May 2021.
Robert Parker
90+ points
2018 vintage review: From 30- to 58-year-old vines on terres blanches and marl soils, Stéphane Riffault's 2018 Sancerre La Noue was cold-macerated and fermented with whole clusters for a total of four weeks. It offers an aromatic, fruity, elegant and charming bouquet of red cherries, raspberries and redcurrant intertwined with stony notes. Concentrated, round and mellow on he palate, this is an elegant, already accessible and maybe too charming (?) Pinot with ripe black berry and licorice aromas on the aftertaste. It was aged for a total of 16 months in 228- to 600-liter oak casks prior the bottling in February. Tasted right after the bottling in February 2021.
I didn't taste wines from Stéphane Riffault for a long while, although I had them in very best memories. The 2016s and 2017s I tasted recently (far too late for potential buyers yet early enough for collectors who cellar them) are exciting. The 2017 Rosé is vinous and elegant, and among the whites, the clear, precise and linear 2016 Les Desmalets and the complex, structured 2016 Les Chailloux are outstanding. Shortly before the deadline for this report, I received the younger vintages—2018 and the fascinatingly vibrant and energetic 2019. These younger vintages include several new highlights, namely the single-parcel wines 468 and 538, which, tasted as barrel samples, are among the finest and most expressive Sancerres I have tasted in many years. The 2019 Les Chailloux is another highlight once again, as is the 2020 Rosé, which is more "a masquerade of a red wine," as Riffault's US importer, Jon-David Headrick, expresses it perfectly. All in all, the Domaine Claude Riffault has become one of my personal favorites of the AOP, and Stéphane's style seems to be moving toward more textured wines, a result of the trend to use more oak. Stéphane's brother is winemaker at the Domaine Étienne Sauzet in Puligny-Montrachet, and they might have an intense exchange about viticultural and winemaking techniques. I remember having tasted many wines grown predominantly or entirely in stainless steel years ago, and I also remember the transition to concrete vats and small barrels; these remain, but larger wooden casks are also in use today. For example, the generic white Sancerre is aged in both 500- and 600-liter wood containers; the Sancerres Les Boucauds is aged in a combination of pièces bourguignonnes (228 liters), 350-, 400- and 500-liter wood containers as well as 600-liter demi-muids. Les Chasseignes ages in both 350-liter barrels and a 20-hectolitre foudre that, in turn, is the cask for the fantastic Sancerres Les Denisottes and Les Chailloux. The Monoparcelles 469 and 538 are vinified in 350-liter barrels before the élevage of eight months takes place in a 20-hectoliter foudre and for another month in stainless steel tanks before bottling. The red Sancerre La Noue is aged in a combination of 228-, 250- and 600-liter oak vats, whereas the Sancerre Rosé is entirely aged in a single 228-liter pièce bourguignonne.
With his rosé, Stéphane Riffault is looking to break the stereotype image of rosé and to produce a great, gastronomic vin de rosé, which he describes as "serious" and makes it "like a clear red." He accepts a loss of freshness in favor of complexity by aging it like a red Pinot Noir. In the end, this makes sense and adds another serious and vinous wine to a remarkable series of ambitious, terroir-driven Sancerres that are far more than just fresh and easy. I even had the impression the rosé is potent enough to be aged even longer on its lees, and Stéphane admits that he's still unsure about this and that there is a possibility that he might age it longer than expected, but he's afraid that what he would gain by aging it longer would be offset with an even further decrease in freshness. He added that bottling in March will give him a "happy medium," but this is yet to be seen.
In an email conversation with Jon-David Headrick, who detected the Domaine Claude Riffault many years ago, he told me that Stéphane is not actively trying to make "wines that are counter to his appellation." Instead, "he's trying to push the boundaries as to what can be made in the appellation. For so long, Sancerre has been known as an appellation that produced simple, fresh wines, and he wants it to be known as one of the great terroirs of France, having the ability to produce 'great white wines of stature and complexity.'" As such, Stéphane has been systematically tasting and speaking with great growers in Burgundy, Champagne, Alsace and Loire regions like Savennières to help him refine his style. "His primary references are in Burgundy where he has taken a lot of cues," reports Headrick. However, he is quick to point out that "Stéphane is not trying to make a Burgundy wine in Sancerre and dislikes this terminology. He is, however, taking the best of the ideas that great domaines in Burgundy have to teach him and adapting those to Sauvignon Blanc, his appellation and his parcels. "
One of the ways Riffault thinks he can produce great, gastronomic whites is to concentrate on extended lees aging. In fact, the "sur-lie" aging is much longer than it was before since "he believes that aging on the lees, and more lees, in wooden containers is one of the ways to achieve this."
One could fear the power, richness and density of the 2019 vintage could have made the new wines from Stéphane Riffault too big, but in fact, he has mastered the challenge incredibly well and kept as much freshness as possible in his full-bodied, structured and sustainable wines while practicing this extended aging. In any case, you should use a big Burgundy glass for all of his wines, particularly for the 2019s—and let them breath enough air. I have the series over a week, and even after seven days, they deeply impressed me.