Refresh your wine collection with the latest and the trendiest handcrafted selections.
---
2 products
Sparkling Wine
Chardonnay, Pinot Meunier, Pinot Noir
Sustainable, Vegan-Friendly
Dry
Medium Bodied
750ml
12% alc./vol
About the Winery
Champagne Fresne Ducret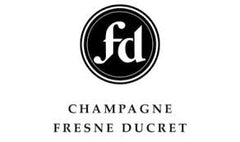 Fresne-Ducret is rich in family history and has been rooted in the premier cru village of Villedommange since the mid 1800s. Originally growing grapes for the big champagne houses, it wasn't until the end of the second world war that the family decided to make their own wine. The tradition carries on today with Pierre Fresne and his wife Daniella (an Oakville ex-pat). Their philosophy is to produce wines that best exemplify the terroir of Villedommange, and they do this with sustainability in mind.
In 2014, Pierre Fresne embarked on a new adventure by creating a limited series of champagnes based on his desire for experimentation. Since then, he has produced one or two of these wines each year. Each are unique, according to his wishes and the profile of the vintage. This unique collection is called Arquémie, the term for alchemy in the Middle Ages. In 2018 Pierre began converting the vineyards to organic viticulture, and 2021 will be their first organic certified vintage.
Press Reviews
Wine Align
95 points - Michael Godel
Hard to believe the age because while this almost certainly achieved an immediately retro toasted and evolved stage in its youth and though 12 years have passed the present day imaginings are dreamed to persist within that very immediate stage. As creamy as it is toasty, the textural body politic in La Grande Hermine is one of great cerebral and figurative impression. You feel, intuit and embrace such honesty and possibility. Drink this vintage dated Champagne all winter long. Its calming presence will preserve you in a state of grace lower than a snowman's blood pressure. Drink 2020-2028. Tasted September 2020.
95 points - David Lawrason
This is a very intense yet nuanced and superbly balanced vintage Champagne. The nose is a blast of finely woven brioche, baked apple, lemon, hay and hazelnut - classic aromatics. It is medium bodied, bracing, dry with great acid grip and minerality. Such focus and outstanding length. Such presence! Tasted Sept 2020.
93 points - John Szabo, MS
Terrific aromatics here off the top, very much in the mature champagne idiom, featuring baked apple turnovers and brioche, toasted almonds, baker's yeast and dried/candied citrus peel in a complex and a highly engaging expression. The palate is an explosion of flavour, delivering more of the same on an ample and generous frame (in champagne context), and excellent length. Expect a bit more of a developed, binned-apple-type expression, a wine more for fans of mature champagne, but an excellent one at that. Drink or hold mid-term for the real goût anglais. Tasted September 2020.
White Wine
Chardonnay
Sustainable
Dry
Medium Bodied
750ml
About the Winery
Jeanne Marie
The Jeanne Marie label was created by David Gordon, one of New York's first recognized sommeliers, and the person responsible for the Wine Spectator Grand Award-winning wine list at Manhattan's famed Tribeca Grill restaurant. The restaurant opened in 1990 by restaurateur Drew Nieporent and actor Robert DeNiro. Gordon, who is self-taught, began learning about wine in the 1980s just as Kevin Zraly was beginning to educate America on the world of wine. At the time, there were very few non-French somms working in the city and the British-born Court of Master Sommeliers was in its infancy.
"You had to pick up a book or magazine to learn about wine," says Gordon. There were no YouTubes or Google or extensive training programs. The list now boasts over 1800 selections including verticals of some of the most sought-after producers.
While he tasted and learned about the best wines on the planet, which included expensive Burgundies and Rhône wines, Gordon always kept the consumer top of mind. "House" Cab and Chard were big sellers at the restaurant, so he set out to meet that demand with a genuine product that would deliver consistent quality.
"I started the Jeanne Marie line as a fun, cool thing to do," says Gordon. "There really weren't any wines associated with sommeliers at the time.  Now there are many, but these were definitely among the first. I named the wine after the person I worship, my wife of 30+ years- Jeanne Marie."
In the beginning, Gordon sourced the wines from his friends in Napa and Sonoma. Producers such as Caymus, Lewis Cellars, and Miner Family provided grapes and helped with the winemaking for the early cuvées. The first Chardonnay vintage was 1992, released in 1994. Today, all the wines are sourced from top producers who have provided high-quality fruit at a fair price year after year. Gordon has kept to his original promise that wines with the Jeanne Marie label will always be affordable and delicious. "People want ripe fruit and a clean taste that's not too oaky or tannic," he says. The wines are refreshing, they can be drunk as an aperitif before dinner or with a meal."
Wines bearing the Jeanne Marie label, much like David Gordon himself, are welcoming and unpretentious.