Sparkling Wine
Chardonnay, Pinot Noir
Sustainable, Vegan-Friendly
Medium Bodied
750ml
12% alc./vol
About the Winery
Champagne Fresne Ducret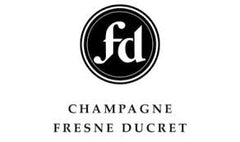 Fresne-Ducret is rich in family history and has been rooted in the premier cru village of Villedommange since the mid 1800s. Originally growing grapes for the big champagne houses, it wasn't until the end of the second world war that the family decided to make their own wine. The tradition carries on today with Pierre Fresne and his wife Daniella (an Oakville ex-pat). Their philosophy is to produce wines that best exemplify the terroir of Villedommange, and they do this with sustainability in mind.
In 2014, Pierre Fresne embarked on a new adventure by creating a limited series of champagnes based on his desire for experimentation. Since then, he has produced one or two of these wines each year. Each are unique, according to his wishes and the profile of the vintage. This unique collection is called Arquémie, the term for alchemy in the Middle Ages. In 2018 Pierre began converting the vineyards to organic viticulture, and 2021 will be their first organic certified vintage.
Press Reviews
Wine Align
96 points - David Lawrason
This has a very intriguing, generous nose of macaroon (coconut), straw, dried apple, toast and almond/hazelnut. Also a lovely sense of sweet nut fudge. It is medium bodied with fulsome flavour, riveting acidity and all kinds of Champagne minerality. Great focus and length here. Wow! Tasted October 2020
93 points - John Szabo
Fresne Ducret's latest release of this premier cru "Chemin du Chemin champagne is a characteristically smoky and savoury, toasty and biscuity, mature champagne in the English style, balanced and savoury. I really like the developed, mature profile here, the great length. This is very good champagne ready to go. Tasted October 2020.
93 points - Michael Godel
When richness, yeasty and warm toasted brioche get together in Champagne the effect is comforting and potentially hypnotizing. From the Premier Cru village of Villedommange dating back to the mid 1800s, the pedigree is noted and the 48 months of lees aging a coup for creating both a creamy and a revitalizing Champagne. There is an oxidative aspect here and it's effectualness is one that imagines exotic spice cupboards, masala mixes and gingery tisanes. Quite the exotic bubble, lightly frothy, elegantly styled, complex and fine. Drink 2020-2026. Tasted October 2020.
Wine Enthusiast
94 points
This Champagne shows some fine maturity. A blend based on the 2014 vintage, it now has toastiness while keeping intense freshness. Acidity and touches of minerality come through the spiciness. Drink now.