9 products
White Wine
Sauvignon Blanc, Sémillon
Vegan-Friendly
Dry
Light Bodied
750ml
12.50% alc./vol
About the Winery
Château Haut-Grelot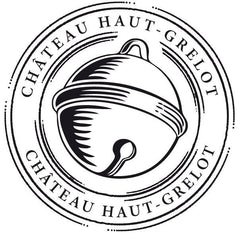 Château Haut Grelot is located in Saint Ciers Sur Gironde, approximately 50 kms north of Bordeaux, on the right bank of the Gironde Estuary. It was established by the Bonneau family in 1922 and now run but the 4th Generation. Today Château Haut-Grelot comprises 58 hectares of vineyards and is run by Céline and Julien, who was recently awarded the title 'Best Young Talent' in Bordeaux.
The vineyards are made up of sandy-gravel on the hillsides bordering the Gironde Estuary and sand-clay-silt on the hillsides further inland. Blaye Côtes de Bordeaux benefits from an ideal microclimate where there is a high level of sunshine and enough rain to guarantee the perfect environment for grape production. As a result the reds are fruity and concentrated and the whites are fresh, vibrant and delicate.
White Wine
Chenin Blanc, Sauvignon Blanc, Sauvignon Gris, Sémillon
Biodynamic, Natural, Organic, Vegan-Friendly
Dry
Medium Bodied
750ml
12.50% alc./vol
About the Winery
Château Barouillet

Chateau Barouillet has been a family business going back at least 8 generations. Vincent Alexis works alongside his father and grandfather to cultivate the land and has moved the winery into organic viticulture, starting to convert the soil in 2010 and fully converting all the vineyards by 2014. In 2020, the obtained their biodynamic certification.
The domaine controls 45 hectares of vines throughout Monbazzillac, Bergerac Pécharmant, and Cotes de Bergerac. Vincent continues to push the biological approach further by working according to the lunar calendar in the vineyards and in the cellar.
Sweet Wine
Sauvignon Blanc, Sémillon
Medium Bodied
750ml
14.2% alc./vol
About the Winery
Château d'Yquem
Great wines are not born just anywhere, by accident. A unique set of climatic and geological conditions combine to form a rare equilibrium. This is undoubtedly the case at Yquem, which epitomises all that is best about the singular winegrowing environment in Sauternes.
Raised to the ranks of Premier Cru Supérieur appellation in 1855, Château d'Yquem is the product of meticulous work in the vineyard. Since its beginnings, it has benefited from an exceptional terroir, as well as being the result of a unique ancestral know-how since 1593.
Long before it was enjoyed by the first US President George Washington, the wines of Yquem had already begun writing their chapters in the history books. It all began in 1453 when Aquitaine, previously English, was brought under French rule. A century later, a local nobleman by the name of Jacques Sauvage was granted feudal tenure over Yquem and thus became the first in a long line of dedicated winemakers. This outstanding terroir in the sauternes appellation has exceptional climate conditions and geological features. Château d'Yquem was attributed the esteemed title Premier Cru Supérieur in 1855. From that point, the genius of this sweet wine was acknowledged, and the Sauvage and Lur Saluces families went on preserving their treasure for over 400 years. The LVMH group acquired the estate in 1999, with the continued desire to go on writing the legendary Yquem story, both in keeping with tradition and remaining open to modern advances. From the vineyard to the cellar, the great art which crafts each vintage is also maintained through respect for the label, and determines the destiny of each year's production.
Château d'Yquem's topsoil is warm and dry, accumulating heat thanks to smooth flat pebbles and coarse gravel. The clay subsoil contains good water reserves and there are numerous springs on the estate. Drainage pipes were installed some time ago to prevent waterlogging (100 km of drains since the 19th century). Yquem's large size made it possible to plant 113 hectares of vines on a very representative sampling of the rich tapestry of the Sauternes region's soil types. This extraordinary variety of soils is a key factor in the quality and complexity of Château d'Yquem.
Press Reviews
James Suckling
98-99 points
The tannins and phenolic tension are very impressive to this. Dried-lemon undertones and burning botrytis. Full-to medium-bodied, linear and racy. Beautiful fruit and intensity. Such clarity. Extreme but wonderful style.
Wine Spectator
99 points
There was no frost at d'Yquem in 2017, and botrytis was very regular and even this vintage. The nose opens with very pure notes of freshly sliced oranges, yuzu and lemon barley water with hints of white pepper, fresh ginger and lime cordial. The incredibly rich, unctuous sweetness (148 grams per liter of residual sugar) is beautifully marbled with bright, vivacious citrus fruit and spice flavors, while lifted by well-knit freshness, and it finishes with epic length and great depth.
96 points
Very flattering and unctuous in feel, with coconut, creamed papaya, toasted hazelnut and warmed peach and tangerine cream flavors gliding along in unison, all framed by warm brioche and piecrust notes on the finish. Remarkably rich, yet poised and pure. Sémillon and Sauvignon Blanc. Best from 2025 through 2045. 4,166 cases made.