7 products
Red Wine
Grenache, Mourvèdre / Monastrell, Samso / Carignan, Syrah
Sustainable, Vegan-Friendly
Dry
Medium Bodied
750ml
14.5% alc./vol
About the Winery
Domaine Andre Aubert
At the very heart of the Rhône Valley, at the northerly tip of the Southern Rhône, lie the vineyards of Grignan-Les-Adhémar. The chances are you haven't heard the name before, few people have, but the wines are worth seeking out. It's not a new wine region – vines have been planted here since around 500BC but it is a new name (formerly known as Côteaux-du-Tricastin). Domaine André Aubert, has been formed over decades and today comprises of more than 280 hectares spread from north to south of the prestigious Southern Rhone Valley on the appellations Côtes du Rhône, Côtes du Rhône villages, Visan, and Grignan-les-Adhémar.
Press Reviews
Wine Align
90 points - David Lawrason
This is new appellation (formerly Coteaux de Triscatin) is the northernmost in the southern Rhone. It uses the typical southern Rhone varieties, but none can be more than 80% of the blend. This is a quite elegant, well structured, mid-weight red with some stony minerality, lifted pepper and savoury notes. Not as opulently fruity and rich as many peers, yet very tidy and balanced. The length is very good to excellent. Tasted March 2022
Red Wine
Mourvèdre / Monastrell, Syrah
Natural, Organic, Vegan-Friendly
Dry
Full Bodied
750ml
13.5% alc./vol
About the Winery
Domaine Frédéric Brouca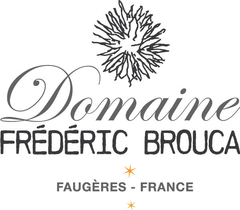 Frédéric grew up in Normandy and met his Canadian wife Elaine at university in Lille, Northern France. They live a nomadic lifestyle (Canada, India, Singapore and USA) though Frédéric spends about half of his time in Faugères. Since early age, Frédéric had a calling for farming and the fierce desire to become a winegrower. After completing a Masters Degree in Finance in 2001, Frédéric went back to college for a Sommelier diploma and started his career as a Burgundy wine broker.

In late 2012, Frédéric and Elaine were fortunate to take over 25 acres of old vines in Faugères, organically farmed for twenty years and deeply rooted in schist soils.
2013 was the inaugural vintage for Domaine Frédéric Brouca. In his modest winery in the village of Laurens, Frédéric is creating a new vision for Faugères wines; fresh, vibrant and made without artifice. Nothing revolutionary, simply returning to our grandparent's ideology of farming and winemaking to craft 'Vins Vivants'. The Faugères Appellation is in the heart of Languedoc in the Hérault department. Here, winemaking dates back to the Greek times and was developed during the Roman Era. It wasn't until the early 1900's, however, that the wines became more widely known for its unique schist soils and moderate Mediterranean climate. These villages are heavily reliant on wine as an important part of their culture and economy.
The area is stunning with mountain views and close proximity to the Mediterranean Sea (20 miles / 30 kms). Faugères has a long history of responsible farming. It boasts the highest percentage of organic vineyards for any AOC in all of France with almost 50% of farmers making the choice.
Red Wine
Cabernet Sauvignon, Merlot, Mourvèdre / Monastrell
Biodynamic, Natural, Sustainable, Vegan-Friendly
Dry
Light Bodied
750
13% alc./vol
About the Winery
Domaine Viret
In a magical place steeped in history, Saint-Maurice, in the Rhone Valley. Advocates of the principles of organic and biodynamic agriculture, the Viret family has chosen to employ a particular form of natural viticulture throughout their estate. Known as "cosmoculture®", this is based on cosmotelluric exchanges. Everything is organised in such a way that both vines and wines are able draw on their own natural defences.
Work in the vineyards focuses on reorganising the magnetic field and on the application of homeopathic and naturals preparations made from rocks and plants that are often found in the vineyards. Alain, Philippe's father, built the winery on an ancient Roman site around an underground spring which they believe energises the vineyards and the winery.