3 products
Red Wine
Malbec
Vegan-Friendly
Dry
Medium Bodied
750ml
14.5% alc./vol
About the Winery
Bodega Marco Zunino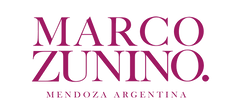 The dream of 4 French partners in Argentina's Mendoza region can be found 200 kilometers from the district capital, in the South of the region, in the town of San Rafael. It's an oasis surrounded by large canyons and crossed by two rivers, Diamante and Atuel, vital for agriculture and tourism in the region.
The arid climate, rugged landscape coupled with the plane trees located along the country roads and weeping willows bordering its rivers that makes the area reminiscent of the midi region in the South of France.
The thirty-hectare vineyard boasts an exceptional site and an idyllic regional climate for wine producing. The low rainfall, vineyard altitude (670m) and high temperature variations are key to the diversity and quality of San Rafael's terroir and offers the ideal setting for a truly exceptional quality of grape.
Press Reviews
Wine Align
90 points - Sara d'Amato
A bright and cheery malbec made with finesse. The palate is cut and refreshed with a salty component, zesty acidity and mildly sinewy tannins. Sleek with notes of earth, new leather and blackberry. Impressively complex with a memorable finish. Drink now or hold until 2023. Tasted July 2020.
90 points - David Lawrason
This is a very generous, open knit, dense and just slightly sweet malbec with classic aromas of mulberry/raspberry, thyme, a touch of meatiness and oak vanillin. It is very smooth, almost slippery and dense with fine tannin and warm. The length is very good to excellent. Lots here for $20. Tasted June 2021
Red Wine
Malbec
Sustainable, Vegan-Friendly
Dry
Residual Sugar: 2 g/l
Medium Bodied
750ml
14% alc./vol
About the Winery
Matías Riccitelli
Matías Riccitelli was born in Cafayete, Salta. He identifies as a traveler and a tireless dreamer. After countless harvests throughout the world, he decided to combine everything he has learned and dedicate himself to exploring the excellent terroirs of Mendoza and the teachings of his mentor, and father, Jorge Riccitelli.
Matías started his boutique winery in 2009, located in Las Compuertas at 1100 meters above sea level. It is the highest area of Lujan de Cuyo, and here he tends 20 hectares of ungrafted old vineyards. Matías also works with small, independent growers that own their lands at the bottom of the Andes halfway between 1000 and 1700 meters above sea level - in Gualtallary, Chacayes, Altamira and La Carrera.
All harvests are conducted by hand and fermentation takes place in small concrete vats and concrete eggs. Purity and delicacy in winemaking are prized by Matías and great care is taken in preserving the fruit's singularity in order to obtain vibrant wines.
Press Reviews
James Suckling
93 Points
Blackberry with some plum and dried tobacco on the nose, following through to a full body with tight, medium-chewy tannins and a flavorful finish. Still a bit tight now, but will show even more beautifully with a little bottle age. Try after 2021.
Wine Advocate
91 Points - Luis Gutiérrez
The floral and fruit-driven 2020 Hey Malbec! is young and juicy, very drinkable, varietal and balanced, from a warm year when they managed to contain the ripeness. The palate is round and fleshy. Very good.