4 products
White Wine
Carricante
Sustainable, Volcanic
Dry
750ml
12.5% alc./vol
About the Winery
Azienda Agricola Tornatore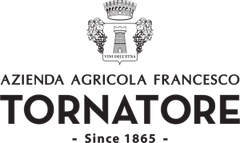 Out of a Sicilian family heritage that traces back to the 17th century, the Tornatore's Mount Etna wine ventures began in 1865. Today the family's operations are headed by Giuseppe Tornatore, a businessman whose expertise led to the acquisition of some of the region's finest north-facing vineyards in the early 2000's. That heritage and the Tornatore's profound respect and understanding of the land is showcased in wines that capture the essence of Etna, deftly balancing concentrated flavors, complexity, freshness and refinement.
The company lies in the northern side of Mount Etna, the highest active volcano in Europe. The soils have volcanic origin and were created through the disintegration of lava, ash and stones from previous volcanic eruptions. The climate on the northern side of the Etna is characterized by mild temperatures, and more rain fall reflecting the influence of the Volcano. The combination of soil, climate and the skill of the winemakers, have made the northern slope of Etna an ideal area for the production of high-quality wines. "Our vineyards and our winery are only a few kilometers from our family home. Our entire family is rooted there. We have the greatest respect for this region, and we believe we have a responsibility to be stewards of Etna and to reflect its distinct character in our wines." - Giuseppe Tornatore
Press Reviews
Wine Align
92 points - Megha Jandhyala
Cast in a compelling golden hue, this is a riveting Etna Bianco, made with grapes grown at an elevation of 650m on the northern slope of Mount Etna. Mineral, smoky, and savoury, it is fragrant with pineapples, apricots, and peaches. The palate is gently rounded, waxy, and salty, supported and lifted by taut acidity. Concentration and complexity are remarkable at this price-point. Length is excellent, with a lingering note of crushed rocks on the finish. Tasted December 2022.
92 points - David Lawrason
From high altitude, terraced vineyards on the north slope of Etna, this pours fairly deep lemon yellow. The nose shows ripe almost tropical fruit but foremost is the flinty, waxy note from Etna's volcanic soils. Then in comes the peach/pineapple fruit, lemon marmalade, savoury dried bay leaf, with some spice. It is full bodied but built on such great acidity and minerality that it drinks with real freshness. Very intense on the palate with lemon, herbs and rocks hitting the finish running. The length is excellent to outstanding. Tasted December 2022.
91 points - Sara d'Amato
Bright, salty and vibrant, this delectable volcanic-grown carricante has quickly become a consumer (and critic) favourite. Flavours of white pepper, ginger, laurel, pear and grapefruit contribute to the complex but ethereal flavour set. Mid-weight with a light viscosity. Lingering finish. Tasted December 2022.
91 points - Michael Godel
Hard to unearth better basaltic value than Tornatore's Etna Bianco which serves as the great carricante pre-cursor to the white Etna oeuvre. Here comes a great white raised in concrete vats to preserve freshness and allow the salty terroir to work in such perfect cahoots with the fruit. A warm vintage and it shows but the volcano and these weathered, layered and cumulative rocky soils can never be denied. Open the dictionary, look for Etna Bianco and Tornatore will be there. Though not a wine of cru or sub-terroir specific reality it matters little because this is the place to begin your Etna journey. Drink 2022-2025. Tasted December 2022.
91 points - John Szabo, MS
A pure carricante from the north side of Etna, Tornatore's 2021 Bianco is a ripe and smoky wine, flinty, with grilled pineapple and quince, salty and briny, green olive tapenade flavours, unique and complex to be sure - it's quite rare to find such singular wines in this price category. Acids are bright and lively, alcohol a modest 12.5% declared, and length and depth very good to excellent. There's so much character on offer for under $25, though I can't call it a wine of mass appeal, more of a adventurer's selection. Drink or hold 4-6 years - I think this will age nicely. Tasted December 2022.
Decanter
91 points
Made from 100% Carricante, with fine balance between minerality and fruit and hints of sweetness; full of white peaches, balsamic herbs and a refreshing citrus finale. A nicely direct wine. Drinking Window 2019 - 2024.


91 points
Showing white blossoms and ripe fruit on the nose, this perfumed white is salty and mouthwatering on the palate, with a touch of lemon zest enlivening the flavors of Asian pear, blanched almond, chamomile and lemon oil. Drink now through 2027.
James Suckling
91 points
For a basic Etna bianco, the concentration here is very impressive, as it delivers citrus, nectarines and Granny Smith apples. Lots of energy on the medium-bodied palate, in the form of crisp acidity and a zippy finish. Drink now.