The ultimate crowd pleasers. In comparison to the very sensual Burgundy, Bordeaux's appeal is cerebral. 
Discover a collection of quintessential Cabernet and Merlot-based reds, crisp and elegant white blends, and be ready to experience the subtle nuance and complexity that makes Bordeaux wines a timeless classic.

---
2 products
Red Wine
Merlot
Natural, Sustainable, Vegan-Friendly
Dry
Medium Bodied
750ml
About the Winery
Grains d'Estuaire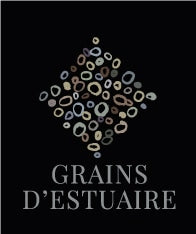 Julien Bonneau, (Château Haut Grelot in the Blayais), and his friend Alexandre Lavigne, restaurateur in Saint-Palais-sur-Mer, created in 2014 a range of wines, Grains d'Estuaire, from 'a 10 ha vineyard located in Saint-Bonnet-sur-Gironde, in the south of Charente-Maritime.
Red Wine
Cabernet Sauvignon, Merlot, Petit Verdot
Sustainable
Dry
Residual Sugar: 2 g/l
Full Bodied
750ml
13.00% alc./vol
Press Reviews
WineAlign
94 Points - John Szabo, MS
Lovely, mature right bank Bordeaux here, straight from the textbook with its gravelly, graphite, black fruit, tobacco leaf, and cassis aromas/flavours, as complex and inviting as many more expensive cru classés. The palate has been polished down to shiny-silky texture with acids firmly in place - this 2006 vintage has turned out to be a delight for fans of the classic style, more elegant and refined than blockbuster vintages, and all the better for it. Stately and aristocratic, and an amazing value for mature, ready-to-drink, quality Bordeaux. Continue to hold another half dozen years if desired, though I find it's at or near peak