Discover a delicious selection of handcrafted wines with an unmatched quality-to-price ratio.
---
3 products
Red Wine
Cabernet Sauvignon, Grenache, Merlot, Tempranillo
Organic, Sustainable, Vegan-Friendly
Dry
Full Bodied
750ml
14% alc./vol
About the Winery
Pago Aylés
Pago Aylés was founded by Federico Ramón, who in 2003 began his dream of classifying this unique land as the first Vino de Pago in the Aragon region. In the Spanish wine quality pyramid, the Pago stands as a top tier or grand cru winery. Just before Federico died, his dream came true in 2010, as Aylés became the 10th Vino de Pago in Spain.
Today his three children continue to produce wines from this special land. The vineyard site has a long history of winemaking, dating back to the 12th century by Spanish monks. Influenced by the River Huerva and the Monte San Pablo mountain, the soil is a mixture of clay, limestone and chalk – ideal for making high-quality wine. Caves, ravines and old river beds can be found all over the estate, which is brimming with wildlife.
Press Reviews
Wine Align
90 points - John Szabo, MS
Deeply coloured and sweet-smelling, very ripe and sappy red blend from Aylés (merlot, garnacha, tempranillo and cabernet sauvignon), with a solid dose of sweet wood spice and jammy black fruit in an almost new world, California-like expression. The palate is soft and plush, immediately satisfying and inviting with its vague impression of sweetness, and supple, creamy tannins and acids and solid concentration. The finish lingers on espresso-mocha notes, though not in exaggerated fashion. A bold and satisfying, widely appealing wine all in all for current enjoyment or short term hold - this is all about the ripe fruit. Tasted March 2022.
Red Wine
Cabernet Sauvignon, Merlot
Dry
Medium Bodied
750ml
13.6% alc./vol
Red Wine
Cabernet Sauvignon, Merlot
Dry
Medium Bodied
750ml
About the Winery
Château Tour de Gilet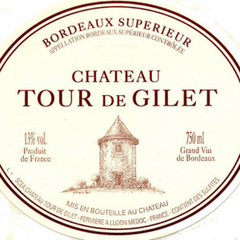 Château Tour de Gilet is located in Ludon Médoc, 16 km north of Bordeaux in the Médoc area. The Château was built on the foundation of an ancient abbey from the 12th century. At that time the vineyard was already surrounded by "jalles" or small criss-crossing drainage canals to help produce wines of higher quality. Today, oenologist Claude Gaudin makes an extraordinary wine at this small property, using techniques such as dense planting in the vineyard and green harvesting to lower the yield, sorting at the harvest and very natural wine making for maximum expression of the fruit.
Claude Gaudin is renowned for turning out several of Bordeaux's best Petits Châteaux wines. In addition to Château Tour de Gilet, Gaudin fashions two outstanding Petits Châteaux that border the Margaux commune, Château Barreyre and Château Laronde Desormes, as well as the celebrated Château Maurac Haut Médoc, whose neighbors are the renowned Château Sociando-Mallet and Château Charmail in Sainte-Estèphe.
Press Reviews
Wine Align
91 points - Sarah d'Amato, MS
A gently maturing Bordeaux with a great deal of brightness, purity and finesse. Features fine tannins, refreshing acidity, moderate alcohol and very nuanced wood - a sophisticated balance of elements. Drinking beautifully now given the majority of fresh fruit and still some tannic grip, this should continue to develop favourably for the next 3-5 years. Pulls above its Bordeaux Superieur class. Tasted September 2022.
91 points - David Lawrason
This has matured into a fine space. It is quite elegant and poised with a complex, well woven nose of redcurrant, raspberry fruit, fresh herbs, graphite and early onset tertiary leather. It has achieved real grace, with some heat, fine tannin. The focus and length is excellent. Tasted March 2023