Discover a delicious selection of handcrafted wines with an unmatched quality-to-price ratio.
---
1 product
Red Wine
Malbec
Vegan-Friendly
Dry
Medium Bodied
750ml
14.5% alc./vol
About the Winery
Bodega Marco Zunino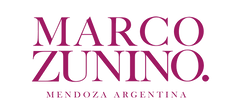 The dream of 4 French partners in Argentina's Mendoza region can be found 200 kilometers from the district capital, in the South of the region, in the town of San Rafael. It's an oasis surrounded by large canyons and crossed by two rivers, Diamante and Atuel, vital for agriculture and tourism in the region.
The arid climate, rugged landscape coupled with the plane trees located along the country roads and weeping willows bordering its rivers that makes the area reminiscent of the midi region in the South of France.
The thirty-hectare vineyard boasts an exceptional site and an idyllic regional climate for wine producing. The low rainfall, vineyard altitude (670m) and high temperature variations are key to the diversity and quality of San Rafael's terroir and offers the ideal setting for a truly exceptional quality of grape.
Press Reviews
Wine Align
90 points - Sara d'Amato
A bright and cheery malbec made with finesse. The palate is cut and refreshed with a salty component, zesty acidity and mildly sinewy tannins. Sleek with notes of earth, new leather and blackberry. Impressively complex with a memorable finish. Drink now or hold until 2023. Tasted July 2020.
90 points - David Lawrason
This is a very generous, open knit, dense and just slightly sweet malbec with classic aromas of mulberry/raspberry, thyme, a touch of meatiness and oak vanillin. It is very smooth, almost slippery and dense with fine tannin and warm. The length is very good to excellent. Lots here for $20. Tasted June 2021